President's Column:

Many requests for coordination are of the digital repeater type. This trend seems to be building. MARC has already coordinated or provisionally coordinated D-star, Mototrbo, P25 and Fusion type digital systems. Any of these systems can be coordinated on a full channel. These are the basic channels like 146.760 or 444.050. If your club or personal repeater is on a full channel like these, you can switch to one of these digital types at any time. Please submit an update TDS, so we can include the access data in the directory. The channel requirement for the digital repeaters is not as wide as standard 5 kHz FM analog that needs 16 kHz of total bandwidth. (+- 8 kHz). The digital signal transmissions are narrower than the FM analog, typically 6 to 9 kHz, but receivers for the fm analog are quite wide.

MARC has placed many digital repeaters on splinter channels. These channels are placed half way between analog channels. Ex. (444.050 - 444.0625 – 444.0750) 444.0625 is the splinter. The splinter channel works well with the narrow band digital signals. The need for caution exists because the wider receive bandwidth of existing analog rigs would hear the digital signal if they are in relatively close proximity. MARC has used a 50-mile minimum spacing between the splinter and the adjacent full channels for this type of coordination. This has been working for many years. Resolution #11 and the history of changes to it are available on the MARC website by-laws resolutions.

The September meeting in Lansing is open to all and all are welcome to attend. At this meeting, MARC will hold elections for vice president, treasurer and a board member. A vote will also be held on a proposal to adopt the standard for splinter channels into the bylaws. If you have any input on this issue, would like to run for an office or are just curious, please attend the meeting. Directions are available elsewhere in this issue.

Please visit the MARC web site and check the activity reports to see what new and renewal applications have been processed.

73, Phil W8IC


-----------------------------------------------


Annual Business Meeting Information:

Meeting Location:

Saturday Sept 12 2015
1:00 pm EDT
Delta Township Fire Station
811 N. Canal Rd.
Lansing, MI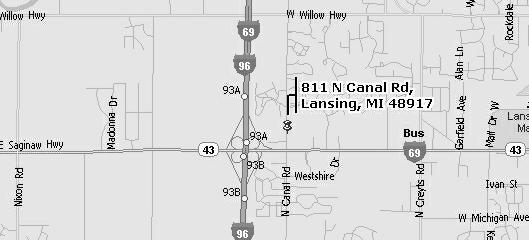 Directions:
Take I-96 to M-43 exit 93, go East to the first traffic light at Canal Rd. Turn left (North) on Canal Rd, go 150' to Administration Dr turn left (West), the new fire station will be on your right. Take the first driveway on the right to the West parking lot. Enter the building at the South entrance on Administration Dr.
Annual Business Meeting
This month brings the annual business meeting where we hold a physical meeting in the Lansing area. This includes the elections for board positions that will expire. This year, the President, Treasurer and one Director position will be up for election.

If you are interested in running for any of these positions, please contact any one of the board members in person or by sending email to them using their callsign@miarc.com. Please note that candidates must also be current MARC members.

The absentee ballot is available for you to print and mail in. We can not accept votes via email at this time. Your ballot must appear in the MARC postal mailbox no later then Friday September 11th to be included. Please also note that in order to vote, you must be a paid member.

Membership dues may be mailed to the postal address listed on the main page of the website, or by clicking on the link to "Pay Your Dues" on the same web page.


-----------------------------------------------

Treasurer's Report
For the Period: 04/30/2015 to 07/31/2015

MARC Funds balance on 04/30/2015 was $ 4,625.89
Income for May, June and July was $ 495.30 from dues, interest and ARRL Repeater directory Honorarium.
Expenses for May, June and July included $21.18 for PayPal fees and the State of Michigan non-profit filing fee

MARC Funds balance on 07/31/2015 was $ 5,100.01


Respectfully Submitted,
Dave Johnson, WD8DJB
MARC Treasurer

Supporting Detail

MARC Funds as of 04/30/2015

Share Acct Bal
Money Market Bal
Checking Bal
Beginning Balance

Income
Dues
Interest June & July
ARRL Repeater Directory

Total Income

Expenses
PayPal Fees
Postage
State of MI Non Profit Filing Fee

Total Expenses

Marc Funds as of 07/31/2015

Share Acct Bal
Money Market Bal
Checking Bal

Ending Balance
$5.00
$4,351.29
$269.60
$4,625.89


$20.00
$2.30
$473.00

$495.30


$1.18
$0.00
$20.00

$21.18



$5.00
$4,826.59
$268.42

$5,100.01
MARC Meeting Minutes

Date: June 6, 2015
This meeting took place electronically.

Officers:

President: Phil Manor, W8IC
Vice President: Dan Thompson, N8WKM
Secretary: Ann Manor, KT8F
Treasurer: Dave Johnson, WD8DJB
*Director: Fred Moses, W8FSM*
Director: Jim Kvochick, K8JK
Coordinator: Dan Thompson, N8WKM
Coordinator: Phil Manor, W8IC
*Coordinator: Jim Poehlman, K8ABZ
Database Manager: Dave Johnson, WD8DJB

* Absent:
Visitors: NONE

Note: call signs of board members are not repeated in the minutes as they are listed above.




Meeting called to order by Phil at: 1:03pm.

Motion to approve minutes from the March 2015, meeting was made by Jim, seconded by Dave, vote taken, minutes approved.
Treasurer's report provided by Dave. Motion to accept the report made by Jim, supported by Ann, vote taken, motion carried.



Old Business:

Jim made a motion that Resolution 11 be voted on for inclusion into the bylaws at the September meeting in Lansing. Seconded by Dave, vote, motion carried.

New Business:

Dave offered to set up the annual meeting in September at the Delta Twp., fire hall. (Lansing meeting).

Jim sent out a letter to the WD8DAR repeater 444.425 noting that it's coordination will be dissolved in 30 days from receipt of notification, pending on a response to the letter.

Dave brought up the fact that 36 to 37% of TDS's are delinquent in submitting their required updates. Many of these are very old and some of them should be de-coordinated. Any board member is authorized to send a de-coodination warning letter (certified) to a delinquent repeater trustee. Send an email including a copy of your letter to mail@miarc.com so that all board members will receive a written record. If you determine that the repeater is no longer complying with its coordinated parameters, based on the response or no response to the letter, send an email to mail@miarc.com indicating the effective date of the de-coordination. At that point, Dave will move the coordination documents into the inactive file. This will free up a pair of frequencies in the data base for a new coordination.

Elections:

In September, elections will take place for the offices of Vice-President, Treasurer, and one board member. Ann and Phil will make up the election committee. Dan, Dave and Jim agreed to run again as incumbents. Please submit your name to w8ic@miarc.com or kt8f@miarc.com if you wish to be a candidate for any of these positions.

Adjournment:

Motion to adjourn made by Dave, seconded by Jim.
Motion carried.
Meeting adjourned at 1:25 PM.

Respectfully submitted,
Ann Manor, KT8F, Recording Secretary


-----------------------------------------------


Database Manager's Corner

Please direct any written correspondence to:

MARC Inc.
7204 Aspen St.
Allendale, MI 49401-8408



The ARRL will be changing the format of it's Repeater Database that MARC updates. The Repeater Directory publication will also be changing starting with the 2016 Edition. Here are the changes the ARRL is making that may effect your entry:

The next editions of the ARRL Repeater Directory, the Repeater Directory apps, and TravelPlus will not include listings for closed repeaters, so we will no longer accept these records for the new database.
You'll notice that the BAND column has disappeared. This information is no longer necessary since the new Repeater Directory will not organize repeater listings by frequency. Instead, repeaters will be listed by state (or province) and city.
We no longer ask for data about certain features such as AUTOPATCH, EMERGENCY POWER, etc since substantial numbers of readers have indicated that this information is of little interest.
The NOTES field has been replaced with the LINK field. This field is primarily there for you to indicate if a repeater has EchoLink, IRLP or AllStar capability (along with the node number). Will not be publishing separate EchoLink/IRLP/AllStar lists. You can also use this field to add information about that fact that a repeater is part of a linked system. However, in the printed Repeater Directory only 12 characters (including spaces) will be printed – everything from the 13th acter onward will be deleted, so choose your words carefully.
We have added fields for narrow-band analog FM repeaters and P25 version 2 repeaters.

We did not provide input to these ARRL changes. We will be making the necessary changes to submit this data, however, it may be some time before we can change our TDS form because of it's current use in our custom software. In the interim, please include any EchoLink/IRLP/AllStar, link or other significant information in the comments field of our current TDS form and we will do our best to include this information in our submissions to the ARRL.

We have a number of TDS forms that are long overdue, 37% of the repeaters in our database have not been updated in two or more year's. So take a minute and check your entry in the MARC Repeater Directory to see if it is time to update your records. We are attempting to respond to every TDS form we receive by return email so you know that your form has been received and you have a copy of what was submitted. If you submitted a TDS and did not receive an email response please contact us at mail@miarc.com.

Dave Johnson, WD8DJB


-----------------------------------------------