Presidentís Column:

Our new volunteers are on line for de-coordination and overdue TDS updates. Many notices have been sent out and replies are streaming in. This is great news for our database, although itís a tremendous load on Dave, our database manager.

If your club has a repeater, make sure your trustee is keeping up with the TDS update requirements. (Itís their job!)

If you receive a notice please respond with an update TDS. We are even receiving some TDS updates that return the coordination, so there are new pairs available for applicants.

It is a good idea to check the repeater directory to see if your repeater is up to date. You may submit an update TDS once a year but it is acceptable to send one in every two years. If you miss the two-year deadline, your repeater will not be printed in the ARRL directory. Try to stay on top of it.

I am speaking to the Trustees of our Michigan coordinated repeaters. Remember that you must submit a TDS modification before you move your repeater or increase the power or antenna height or gain. Making any of these changes before getting re-coordinated may result in de-coordination of your system.

Please visit the MARC web site and check the activity reports to see what new and renewal applications have been processed.

73, Phil W8IC


-----------------------------------------------


Annual Business Meeting Information:

Meeting Location:

Saturday Sept 10 2016
1:00 pm EDT
Delta Township Fire Station
811 N. Canal Rd.
Lansing, MI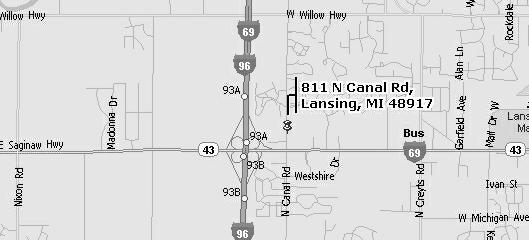 Directions:
Take I-96 to M-43 exit 93, go East to the first traffic light at Canal Rd. Turn left (North) on Canal Rd, go 150' to Administration Dr turn left (West), the new fire station will be on your right. Take the first driveway on the right to the West parking lot. Enter the building at the South entrance on Administration Dr.
Annual Business Meeting
This month brings the annual business meeting where we hold a physical meeting in the Lansing area. This includes the elections for board positions that will expire. This year, the President, Secretary and one Director position will be up for election.

If you are interested in running for any of these positions, please contact any one of the board members in person or by sending email to them using their [callsign]@miarc.com. Please note that candidates must also be current MARC members.

The absentee ballot is available for you to print and mail in. We can not accept votes via email at this time. Your ballot must appear in the MARC postal mailbox no later then Friday September 11th to be included. Please also note that in order to vote, you must be a paid member.

Membership dues may be mailed to the postal address listed on the main page of the website, or by clicking on the link to "Pay Your Dues" on the same web page.


-----------------------------------------------

Treasurer's Report
For the Period: 05/31/2016 to 08/31/2016


MARC Funds balance on 05/31/2016 was $ 5,603.66

Income for June, July and August was $ 82.65 from dues and interest.

Expenses for June, July and August were $ 52.89 for the State of Michigan Non-Profit filing fee, a 2 yr subscription to ESet Virus Protection Software and PayPal fees.

MARC Funds balance on 08/31/2016 was $ 5,633.42


Respectfully Submitted,
Dave Johnson, WD8DJB
MARC Treasurer

Supporting Detail

MARC Funds as of 05/31/2016



Share Acct Bal
Money Market Bal
Checking Bal

Beginning Balance

Income
Dues
Interest June, July & August

Total Income

Expenses
PayPal Fees
Postage
State of MI Non Profit Filing Fee
ESET Virus Software - 2 yr license

Total Expenses

MARC Funds as of 08/31/2016

Share Acct Bal
Money Market Bal
Checking Bal

Ending Balance
$5.00
$5,287.67
$310.99

$5,603.66


$80.00
$2.65

$82.65


$2.95
$0.00
$20.00
$29.94

$52.89



$5.00
$5,290.32
$338.10

$5,633.42
MARC Meeting Minutes

Date: June 4, 2016
This meeting took place electronically.

Officers:

President: Phil Manor, W8IC
*Vice President: Dan Thompson, N8WKM
Secretary: Ann Manor, KT8F
Treasurer: Dave Johnson, WD8DJB
*Director: Fred Moses, W8FSM*
Director: Jim Kvochick, K8JK
Coordinator: Dan Thompson, N8WKM
Coordinator: Phil Manor, W8IC
*Coordinator: Jim Poehlman, K8ABZ
Database Manager: Dave Johnson, WD8DJB

* Absent:
Visitors: Bob, N8ZCC, Corwin WB8UPM, and Pete, AA8GK

Note: call signs of board members are not repeated in the minutes as they are listed above.




Meeting called to order by Phil at: 1:02pm.

Motion to approve minutes from the March 5, 2016 meeting were made by Dave, seconded by Jim, vote taken, minutes approved..
Treasurer's report provided by Dave. Motion to accept the report made by Jim. Supported by Ann, vote taken, motion carried.



Old Business:

Phil stated that, at the previous meeting in March, Dog resolution #15 was voted on for inclusion into the bylaws. It passed and was printed in the newsletter, allowing the vote today to move it into the bylaws..

Motion made by Dave to move Resolution #15 into the Bylaws, seconded by Jim, vote taken, motion passed. # 15 is now included into the bylaws.

New Business:

Phil proposed a resolution using the DOG to allow for four more coordinators that would not be considered board members so that the quorum requirement would not increase.
Motion made by Dave for Resolution #17 under the DOG, as follows:

ARTICLE III Part A #6. Coordinator(s) - no more than four. Exception: up to four additional coordinators may be appointed to help the coordinators who are board members. The four additional coordinators are not considered board members, and therefore are not included in the quorum requirements.

Motion seconded by Jim, vote taken, motion passed.

Phil stated the 4 new volunteers are: Pete Matejcik AA8GK; Bob Walchli, N8ZCC; Larry Stocking W8SOX, and Ryan Johnson N8PBX. Phil asked for a vote to approve them as non-board member coordinators.
Vote taken, the new coordinators are approved.

Phil will meet with and work with the new coordinators to instruct them in the coordination and de-coordination process as soon as they have signed the non-disclosure agreement.

Elections:

Elections will take place at the September MARC meeting, which will be held in Lansing. The offices open for elections are for president, secretary, and one board member. Phil requested an election committee to oversee the elections. Jim and Dave agreed. Jim polled the president and secretary to see if they would run again and they agreed. No other nominees at this time. Nominations will be opened at the September meeting. Any one interested in running may contact Dave or Jim to be placed on the ballot in advance of the September meeting.

Phil suggested a DOG resolution #18 as follows:
The coordinator may assign an access code (CTCSS or Digital Code) to a new or re-coordinated repeater if the applicantís code is in conflict with an adjacent stateís access tone or digital code plan.

Jim made the motion, Dave seconded the motion, discussion, vote taken, motion passed.

Adjournment:

Motion to adjourn made by Ann, seconded by Jim.
Motion carried.
Meeting adjourned at 1:25 PM.

Respectfully submitted,
Ann Manor, KT8F, Recording Secretary


-----------------------------------------------


Database Manager's Corner

Please direct any written correspondence to:

MARC Inc.
7204 Aspen St.
Allendale, MI 49401-8408



I want to extend a welcome to our new Volunteer Coordinators: Pete AA8GK, Bob N8ZCC, Larry W8SOX and Ryan N8PBX. They are learning the ropes and helping us update our repeater records.

Roughly about 21 percent of our repeaters are overdue for a TDS submission. Trustees, please take a minute to review your entries in the MARC Repeater Directory and submit a TDS form if you find your entries listed in RED.

When you complete your TDS Form please take a little extra time to fill it out completely. It saves us time in processing your update.

We are attempting to respond to every TDS form we receive by return email so you know that your form has been received and you have a copy of what you submitted. If you submitted a TDS and did not receive an email response please contact us at mail@miarc.com.

Dave Johnson, WD8DJB


-----------------------------------------------