Presidentís Column:

Summer has been fun, but short. The major issue confronting MARC is the repeater directory. The ARRL is no longer in charge, as they have a private firm collecting and printing the book, as well as providing web based repeater information. The labor involved, privacy, payment and control of the data are of concern to the MARC Board members and many repeater owners.

This issue took up a lot of time at the last electronic meeting, and I expect it to be discussed again at the meeting on September 9, 2017. I would like to explain the issues further, but it seems like all the facts are still not available. What I have heard so far is not very clear to me. Dan, N8WKM, our newsletter editor and VP, is working on getting the correct info directly from RFinder.

Hope to see you at the meeting. This September's meeting will be held at the Delta Twp. Fire station near Lansing. Directions are included in this newsletter. It is the only meeting each year where we can actually meet in person. The three other quarterly meetings are held on the Internet with FreeConferenceCall.com software. All are welcome to join in at at any meeting.

73, Phil W8IC


-----------------------------------------------


Annual Business Meeting Information:

Meeting Location:

Saturday Sept 9 2017
1:00 pm EDT
Delta Township Fire Station
811 N. Canal Rd.
Lansing, MI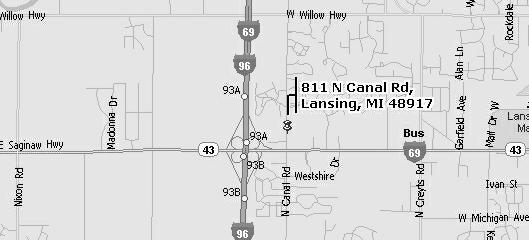 Directions:
Take I-96 to M-43 exit 93, go East to the first traffic light at Canal Rd. Turn left (North) on Canal Rd, go 150' to Administration Dr turn left (West), the new fire station will be on your right. Take the first driveway on the right to the West parking lot. Enter the building at the South entrance on Administration Dr.
Annual Business Meeting
This month brings the annual business meeting where we hold a physical meeting in the Lansing area. This includes the elections for board positions that will expire. This year, the Vice President, Treasurer and one Director position will be up for election.

If you are interested in running for any of these positions, please contact any one of the board members in person or by sending email to them using their [callsign]@miarc.com. Please note that candidates must also be current MARC members.

The absentee ballot is available for you to print and mail in. We can not accept votes via email at this time. Your ballot must appear in the MARC postal mailbox no later then Friday September 81th to be included. Please also note that in order to vote, you must be a paid member.

Membership dues may be mailed to the postal address listed on the main page of the website, or by clicking on the link to "Pay Your Dues" on the same web page.


-----------------------------------------------

Treasurer's Report
For the Period: 05/31/2017 to 08/31/2017

MARC Funds balance on 05/31/2017 was $ 4,851.33
Income for June, July and August was $ 12.97 from dues and interest.
Expenses for June, July and August were $ 73.31 for the State of Michigan Non-Profit filing fee, postage and PayPal fees.

MARC Funds balance on 08/31/2017 was $ 4,790.99


Respectfully Submitted,
Dave Johnson, WD8DJB
MARC Treasurer

Supporting Detail

MARC Funds as of 05/31/2017

Share Acct Bal
Checking Bal
Money Market Bal
Beginning Balance

Income
Dues
Interest Jun Jul & Aug

Total Income

Expenses
PayPal Fees
Postage
State of MI Non Profit Filing Fee

Total Expenses

Marc Funds as of 07/31/2015

Share Acct Bal
Checking Bal
Money Market Bal

Ending Balance
$5.00
$138.49
$4,710.81
$4,790.99


$10.00
$2.97

$12.97


$0.59
$52.72
$20.00

$73.31



$5.00
$75.18
$4,710.81

$4,790.99
MARC Meeting Minutes

Date: June 3, 2017
This meeting took place via internet and phone connection.

Officers:

President: Phil Manor, W8IC
*Vice President: Dan Thompson, N8WKM
Secretary: Ann Manor, KT8F
*Treasurer: Dave Johnson, WD8DJB
*Director: Jim Kvochick, K8JK
Director: Jeff Oberg, KB8SXK
Coordinator: Dan Thompson, N8WKM
Coordinator: Phil Manor, W8IC
Coordinator: Jeff Oberg, KB8SXK
Coordinator: Bob Walchli, N8ZCC
Database Manager: Dave Johnson, WD8DJB

Absent: Indicated by * above
Visitors: Corwin WB8UPM, and Joe, WB2ADX

Note: call signs of board members are not repeated in the minutes as they are listed above.




Meeting called to order by Phil at: 1:05pm.

Motion to approve minutes from the March 2017 meeting was made by Dan, seconded by Bob, vote taken, minutes approved.
Treasurerís report provided by Dave as published in the newsletter. Motion to approve the report was made by Dan, seconded by Ann, vote taken, Treasurer's report approved



Old Business:

Dan reported on a talk he had with the ARRL CEO Tom Gallagher. He met Tom at Dayton and discussed the ARRL/Rfinder repeater directory. Main issues included; communication from the ARRL, coordinates of repeaters, ability to make changes to the data, protection of the data (contract), support of coordination bodies by the ARRL, and so forth. Hopefully, Tom, at the ARRL will consider the points discussed and take some action to have the directory work well for all coordination bodies.

Suggestions included a purge of data once a year. Also, ARRL should maintain a database that coordinators can make changes in.

Dan will inform members of the area coordinators who attended the meeting last year in Wisconsin, of his meeting in Dayton. There is no national coordinators group that is viable and which has ongoing communications on this subject that MARC is aware of.

No changes to report on the process of coordination by propagation software. This is something that Dave Karr from Wisconsin is working on. Software he has written is to be updated.

New Business:

Dan will try to put the September MARC meeting on Free Web Meeting. This may or may not be possible at the Delta Township location.

Adjournment:

Motion to adjourn made by Dan, seconded by Jeff.
Motion carried.
Meeting adjourned at 1:55 PM.
The next meeting will be conducted in the Lansing Michigan area, Saturday, September 9, 2017 at 1:00 PM.( Delta Township Fire Department ).


Respectfully submitted,
Ann Manor, KT8F, Recording Secretary


-----------------------------------------------


Vice President's Thoughts

Our new coordinators and assistant coordinators are working out well. Thanks to their work and a the persistence of Bob, N8ZCC we have better up to date information in our database and we have had few frequencies returned to the pool. If you get a letter or a call from Bob, please go easy on him as he is doing a thankless and tough job.

The saga of the repeater directory continues. I am sure there will be discussion about a few possibilities on how to publish yet maintain the integrity of our data.

We will be making an attempt to take the online meeting to the physical meeting this time around. Unfortunately I don't know how well this will work, nor do I have a way to test it until we actually try to use it. There is only so much I can test, and the rest is up to hoping that I have some good theories. The only promise I can make is that I am going to try.

To access the online portion of the meeting, please see the June Newsletter and follow the instructions. If we are able to make it work we will be there.

Dan Thompson, N8WKM


-----------------------------------------------